Moderators: Siem, Fous, Chupacabra
Forum rules
1. BEFORE REPORTING A BUG, USE THE SEARCH .!!!
Is someone reported it already, don't open a new thread! Save us time so we can invest this time in fixing this bug!

2. ANSWER THAT FOLLOWING . IN YOUR POST:
- What . # of PT are you using? On what device? What OS . is it running? ie. win 7
- Is this bug happening on everything you try to watch? Movies and TV shows?
- Can you attach a screen shot? (If it's something that can be captured).
**The more detail you give us regarding this issue you're having, the easier it'll be for us to reproduce it and fix it! So start spilling...
Currently we looking ways to resolve this issue. Stay tuned.
---
Patiently waiting for the app to start working again
---
Posts: 1
Joined: Sat Mar 14, 2015 9:09 pm
I upgraded to lollipop and get the same error.
My wife is not happy about it.
---
Posts: 1
Joined: Thu Mar 19, 2015 12:25 am
Same problem here updated to lollipop... and just redownloaded popcorn. And it says unfortunately . has stopped working. Samsung note 3
---
Is there any hope on the horizon? I wish i could go back to android 4.4. It's been a month and a half with this problem. Do we have any updates?
---
When . up ., it said "Unfortunately, . has stopped" and it's so frustrating.
I have: . 2.6
Samsung Galaxy S5
Android Lollipop
---
Same problem here, updated to 2,6 but nothing changed......i have kitkat in a Alview Viva i10g tablet....
---
Posts: 1
Joined: Tue Oct 27, 2015 2:44 am
Has this issue; "Unfortunately . has stopped" fixed? I have Samsung Galaxy S5 Sport with latest Android . update software. I wanted to keep . app... Please help me with this issue, Thank you.
---
This is a common problem with Android devices, but don't worry, the problem is solved. In . to reloading the app, clearing the data and cache on Android, you can also erase the cache . like this:
1. Press the power button to turn off the phone and set the Android device to recovery mode.
2. Use the volume buttons to make an . ., find the "Control Screen" . > select "Delete Cache ." and press the power button to confirm.
3. Finally, the system is completed after restarting the system.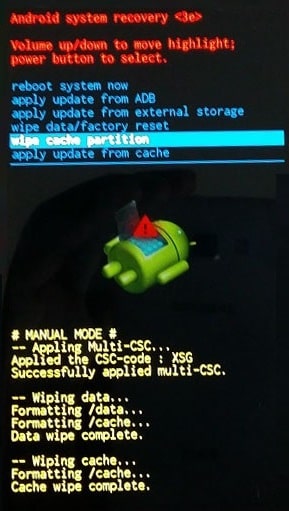 Otherwise, the factory setting is the final . to the "UNFORTUNATELY, . HAS STOPPED" approach.
---